Alitral Online
Literary Translation: creation and diversity — We will explore the reality literary translators experience in the Ibero-American scenario: their rights, job market, penetration of their work outside this geography, besides samples of contemporary works in Portuguese and Spanish. A linguistic performance will close the program.
The Alianza Iberoamericana para la Promoción de la Traducción Literaria is active is different aspects of the literary translation profession and in different countries through strategic aliances. These partnerships afford the entity special insight into the professionals' standing in the market, and to celebrate their efforts through activities such as  La Cantera de Traducctores, live events, promotion and realization of workshops, and related events,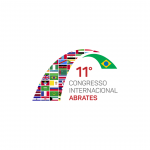 Opening
With Marcelo Neves as the Master of Ceremonies on behalf of the Board and welcome address by President Giovanna Lester.
Keynote Speaker
Renato Beninatto
Chairman and co-founder of Nimdzi, Renato shares with us decades of experience. Be it in international consulting, market research, sales and marketing, or translation, Renato is gifted with an innate and sharp sensibility that allows him to see trends with the foresight to take advantage of them successfully.
His work in the areas of market research and analysis places him as one of the greatest influencers in the market, with his opinions and insights, anticipating the future for translation and interpreting.
Membership Meeting
Abrates members only